So the time is finally here to reveal the name for our project in Dalkey.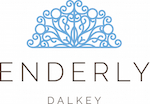 The name comes from the very ground we're building on. This land was formerly part of a much larger estate called Enderly, which over the years was split up with the old Enderly house being renamed Santa Maria (and it still proudly stands today).
For us, its important to retain a link with history when making new things, if we didn't, it would be easy to forget who we are.
Construction is well underway, the guys are drilling out granite (if anyone wants some let us know, we have LOTS) and we'll shortly be pouring foundations. We made a little video to introduce the project to the world, can you guess who the narrator is?